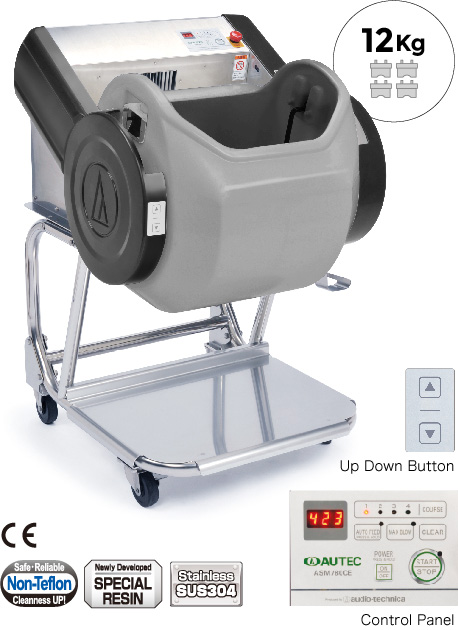 Newly developed special resin improves safety
and realizes ideal and easy opearation.
A newly-developed temperature sensor on the ASM780 helps to offer uniform finished rice without being affected by the condition of the cooked rice.
Once operation is done, the machine transfers the mixed rice to the box automatically. Set a rice box in advance and transferring will be completed.
The drum is light and releases quickly because newly developed resin is used and it is also easy to clean as the drum itself can be moved to the sink to be cleaned.
ASM780 adopts a new method of mixing rice using a cradle-like motion to mix evenly. It is also suitable for making Japanese-style mixed rice by just adjusting mixing time.
The operation is interrupted while drum cover is opening.

Parts used Teflon coating are not used.
No worries about exfoliation of body surface.
It can reduce running costs due to no need for recoating.


Special Resin prevents Shari from attaching to main body.
No worries about exfoliation of body surface.
※Developed collaborating with Resin manufacturer.


Stainless SUS304, a high-class corrosionresistant Stainless steel,
is used for the exterior of the machines. Due to its high rust resistance,
surface finishing is not required and the exterior will not peel.
Since stainless SUS304 is easily welded and clean, the machine can always be kept clean.


Power Supply

AC120V (ASM780A)

AC230V (ASM780CE)

Power Consumption
200W
Capacity
Approx. 6.6 – 13.2 kg
Dimensions
W 598 x D 743 x H 989 mm


※ Excluding the Power Cord and protruding parts

Weight
Approx. 47 kg