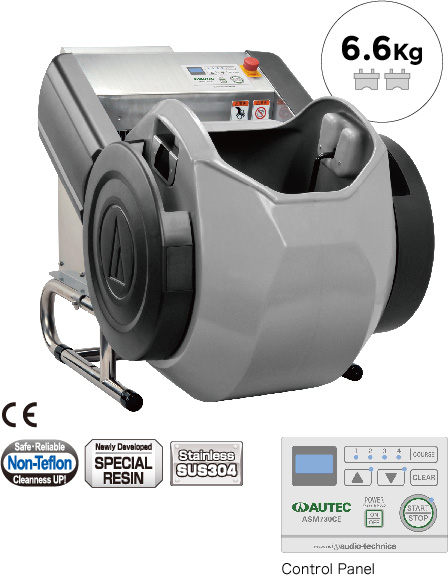 The industry's most compact table-top shari mixer
enables anyone to make high-quality shari without difficulty.
A uniquely shaped shari mixing bar was newly developed. A non-stop quest for rice mixing with controlled stickiness and unevenness.
Further improvement in cooling effect by an increase in blower air volume.
The introduction of a new rice mixing system, by which the drum is rocked like a baby cradle. Combined with the rice mixing bar, this new system helps make high-quality shari.
A non-Teflon drum made of a special resin*2 was introduced for the first time in the table-top rice mixer industry*1.
The industry's slimmest rice mixer*3 with a width of 500mm or less was realized by removing space.
*1 According to our survey in April 2014 *2 Joint development with a resin maker *3 According to our survey in April 2014

Parts used Teflon coating are not used.
No worries about exfoliation of body surface.
It can reduce running costs due to no need for recoating.


Special Resin prevents Shari from attaching to main body.
No worries about exfoliation of body surface.
※Developed collaborating with Resin manufacturer.


Stainless SUS304, a high-class corrosionresistant Stainless steel,
is used for the exterior of the machines. Due to its high rust resistance,
surface finishing is not required and the exterior will not peel.
Since stainless SUS304 is easily welded and clean, the machine can always be kept clean.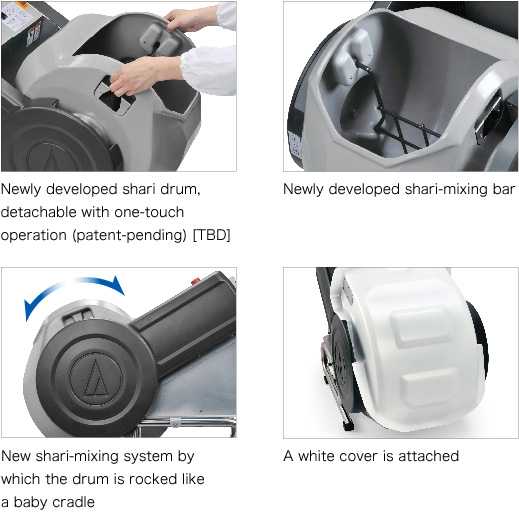 Power Supply

AC120V (ASM730A)

AC230V (ASM730CE)

Power Consumption
280 W
Capacity
Approx. 3.3 Kg – 6.6 Kg
Dimensions
W 488 x D 692 x H 592 mm


※ Excluding the Power Cord and protruding parts

Weight
Approx. 35 kg