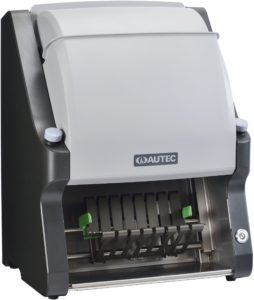 Cutting operation be shortened.
Anyone can cut Norimaki easily and quickly.
Its nice appearance make your sales increase.
Reduce daily work of shop staff
Cut beautifully like human made
New design, especially easy to assemble and clean
Protecting cutter blades with "Smart Brake Structure"
With double safety systems, it achieved safety-oriented design and secure the safety of operator.

Power Supply
AC100V – 240V 50Hz / 60Hz
Power Consumption
35W
Production Capacity
Up to 600 pcs per hour ※Including putting Norimaki action for 2sec.

Small maki(25mm) 4 pcs(2,400pcs per hour)

Medium maki(35mm) 2 pcs(1,200pcs per hour)

Large maki(45mm) 1pcs(600pcs per hour)

※The production capacity varies depending on the setting and the conditions

Range of Norimaki sizes
Thickness: Equivalent to 25 square – 50 square(mm)

Length: Lengthwise roll(for 6/8 pcs) 180-190mm

Yoko roll( for 10 pcs) 200-210mm

Cutting Size(mm)
For 6 pcs cut : 30 each
For 8 pcs cut : 22.5 each
For 10 pcs cut : 20 each
Dimensions
W 379 x D 290 x H 497 mm※Excluding the Power cord and protruding parts.
Weight
17 kg