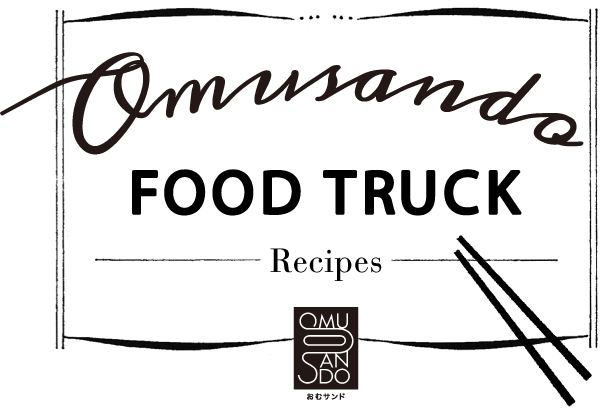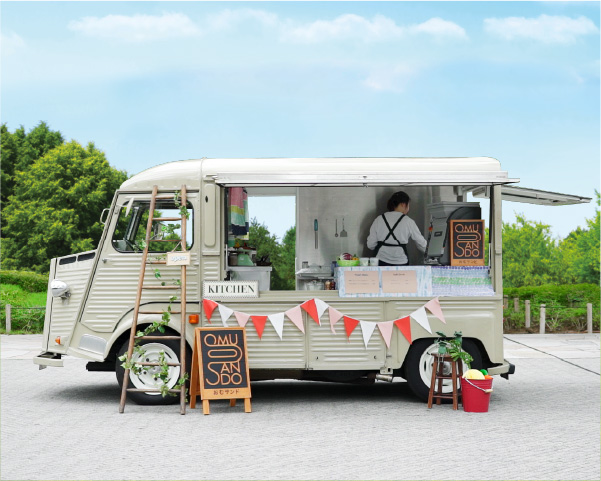 OMUSANDO
Delicious treats you'll definitely want to try for yourself!
Omelet and rice sandwich bento lunchbox made using the ASM865CE Rice Mat Robot.
"おむサンド" and

are trademarks of Audio-Technica Corporation, registered in Japan.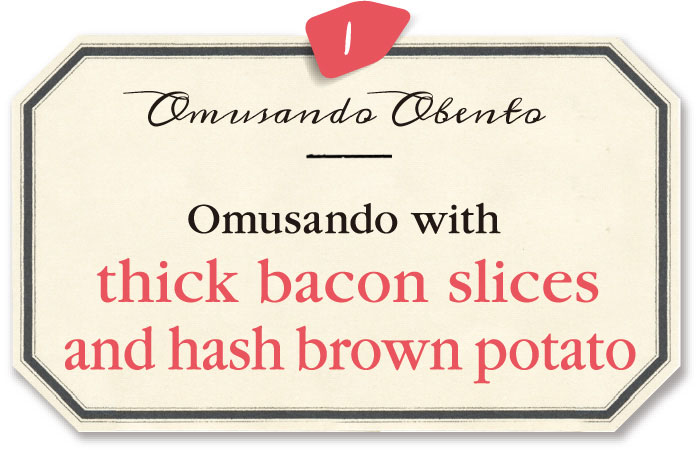 Morning chilling
at hamburger shop.
Munch on the Omusando
like a snack.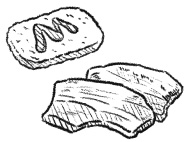 Ingredients

Recipe
The look of hashed browns and thick slices of crisp, grilled bacon is mouth-watering. The sauce combined mayonnaise and mentsuyu makes perfect combination with rice on the Omusando.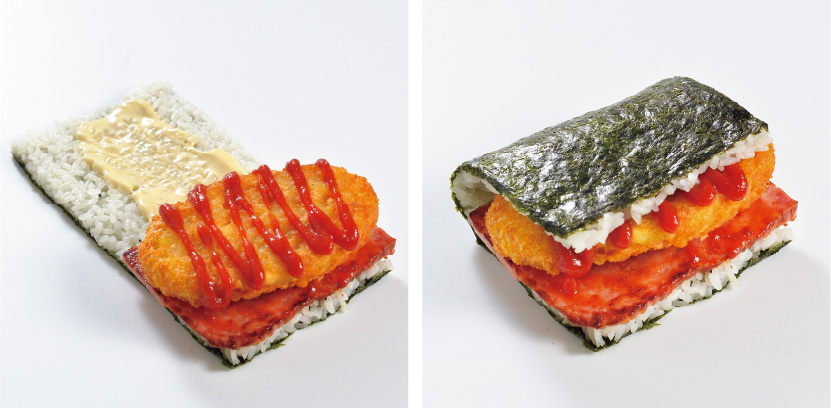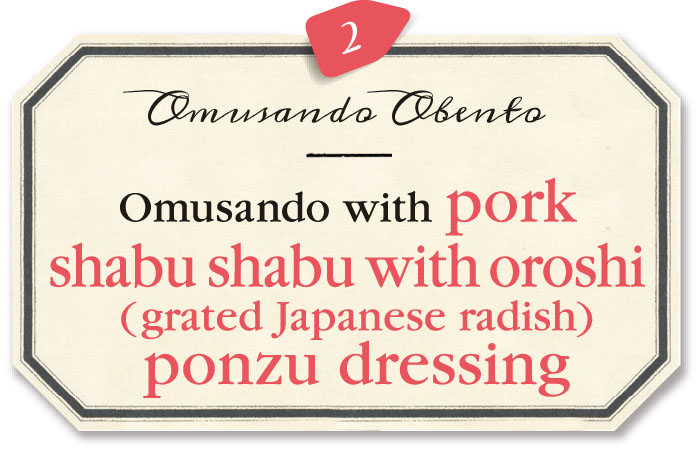 Best match with rice
and fried eggplants and condiments.
Make you feel like in the japanese mood.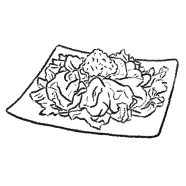 Ingredients

Recipe
Cook pork slices carefully in 80℃ hot water to keep them soft and intact. Top with a shiso leaf, shiraga negi and white sesame. Drizzle the oroshi ponzu dressing for light taste.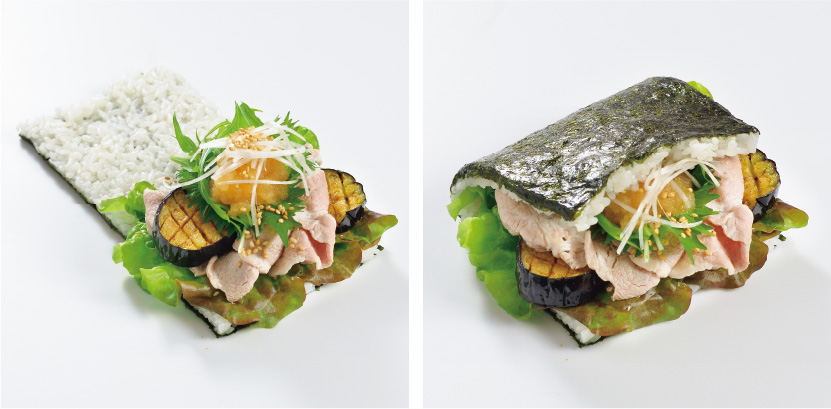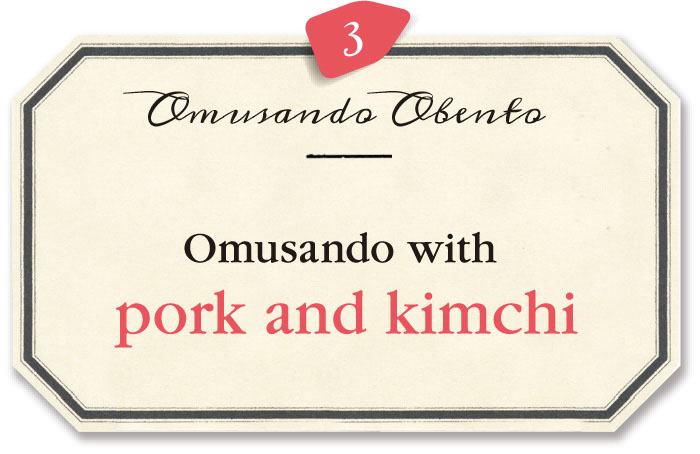 The combination of fresh
and stir-fried kimchi
gives a depth of taste
to this extraordinary Omusando.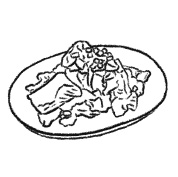 Ingredients

Recipe
Stir-fry pork and kimchi with oyster sauce to let the moisture evaporate. Add cabbage, moyashi (bean sprouts) and nira (garlic chive) to create a generous meal full of veggies.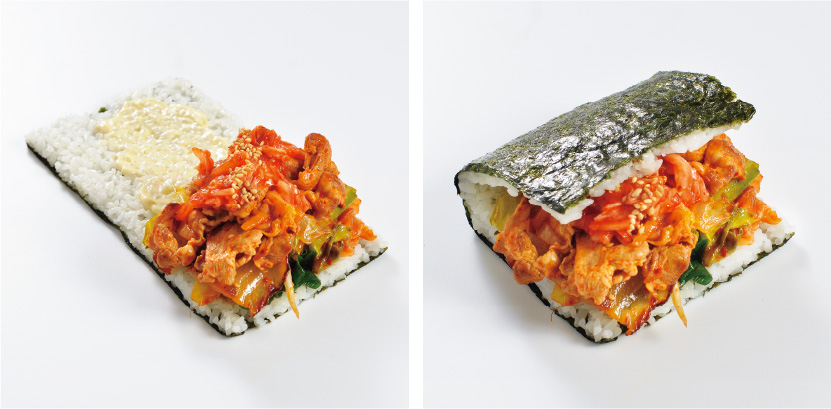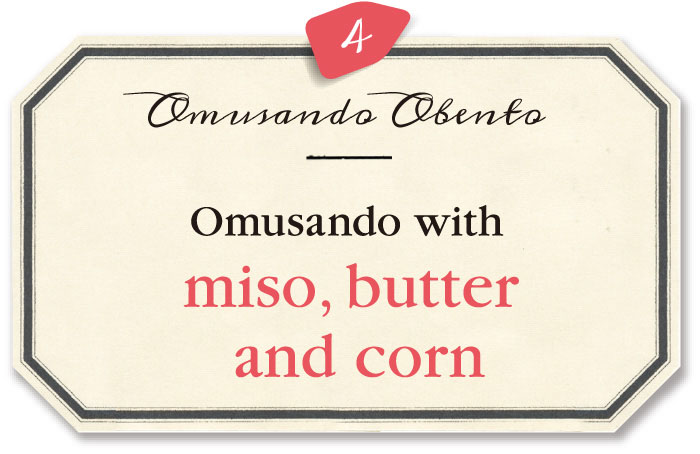 A meal inspired
by Hokkaido Ramen?
It's like a savory salad
with rich flavor.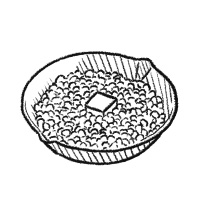 Ingredients

Recipe
The tip is to spread butter on rice and toast the Omusando lightly. Sprinkle Parmigiano reggiano cheese and black pepper on sweet corn glazed with butter and miso. Shred green leaf lettuce into large pieces.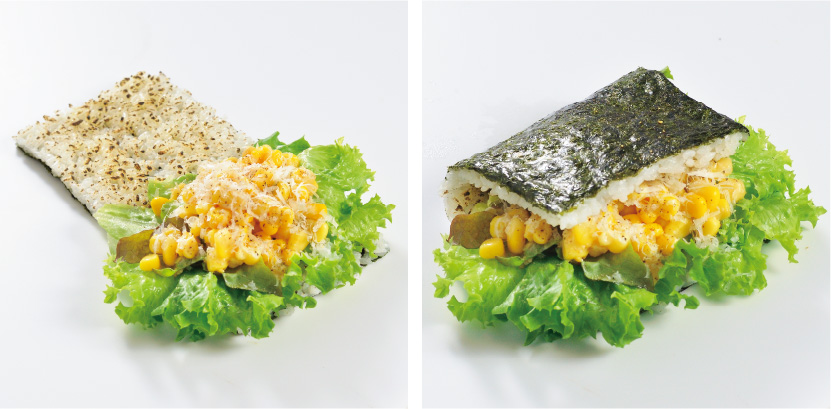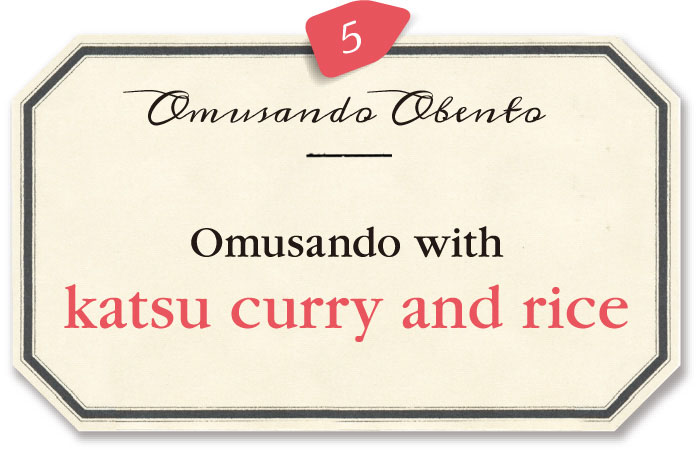 It's the Omusando
that whets your appetite!
Enjoy the enticing katsu curry as it is.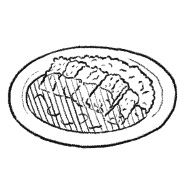 Ingredients

Recipe
The Omusando puts together julienned cabbage and sliced pork loin katsu with curry sauce. Cook down the curry sauce until thickened so that the Omusando can be eaten easily without the sauce dripping.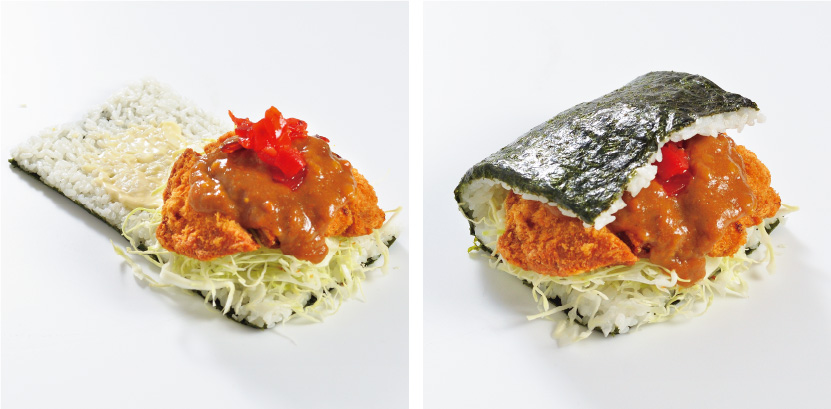 Gyoza pieces for THREE!
And plenty of fried vegetables,
It is amazing to enjoy set meal.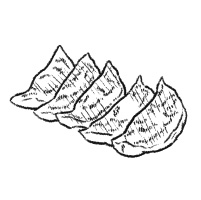 Ingredients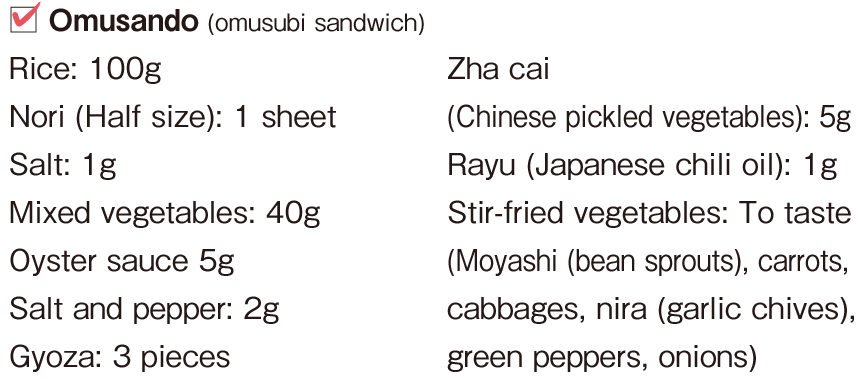 Recipe
Season stir-fried vegetables with oyster sauce. Add moyashi and nira later to maintain their crispness. Top with zha cai for an accent.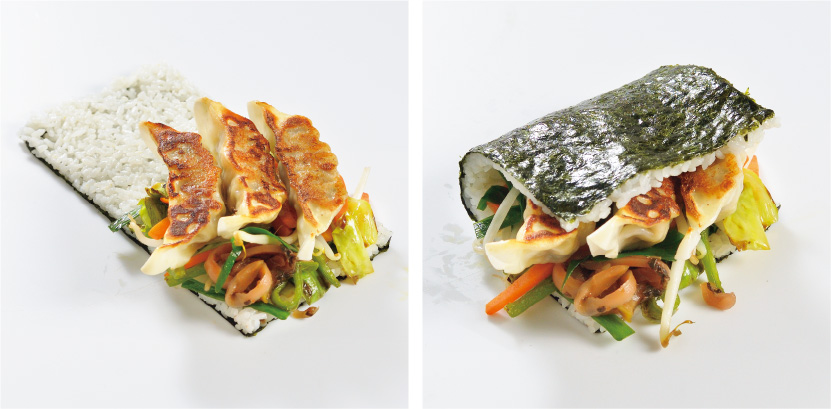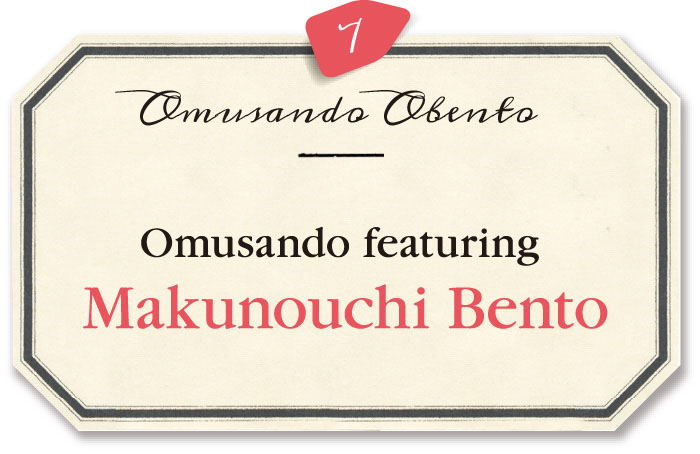 Exciting harmony of tastes.
Various dishes
Reiwa style
of Makunouchi Bento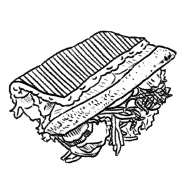 humi hosokawa Presents.
Grab a bite!
Omusando in set meal style
Enjoy our new, evolutionary versions of "Omusando" that are bold arrangements of everyday set menus with rice and side dishes, giving you that feel of eating out at a small, laid-back restaurant in town. No need for chopsticks or serving bowls. A nutritionally balanced and filling meal is at your fingertips, so feel at ease and just grab a bite. These Omusando recipes are based on familiar Japanese, Western and Chinese dishes. Discover our delicious collaboration with AUTEC that explores the endless possibilities of Omusando.
Ingredients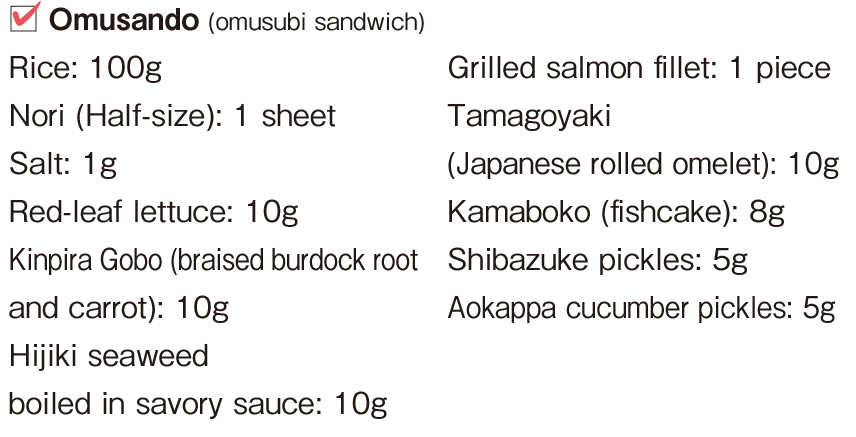 Recipe
The tip is to layer the weighty grilled salmon piece over hijiki and kinpira. Add kamaboko slices to make it colorful. Serve with Chikuwa Isobeage (deep-fried fishcake flavored with Aonori seaweed flakes) to complete the set menu!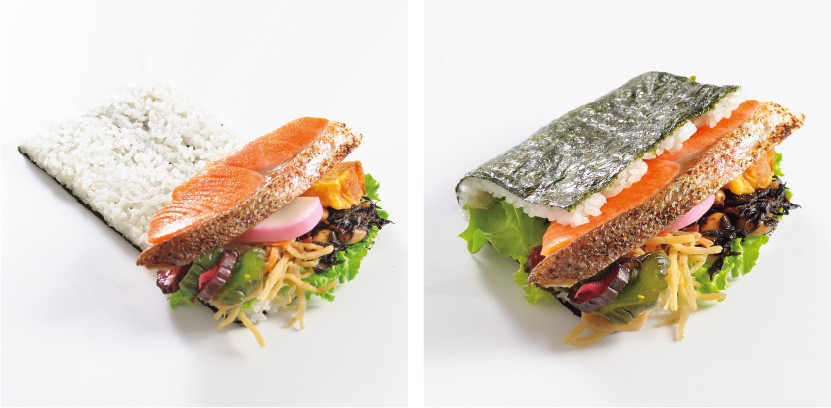 Simply set the nori and press the button to form a sheet of rice using the designated amount of rice. Place the ingredients shown in the recipe on the rice and fold the sheet into half to make Omusando.