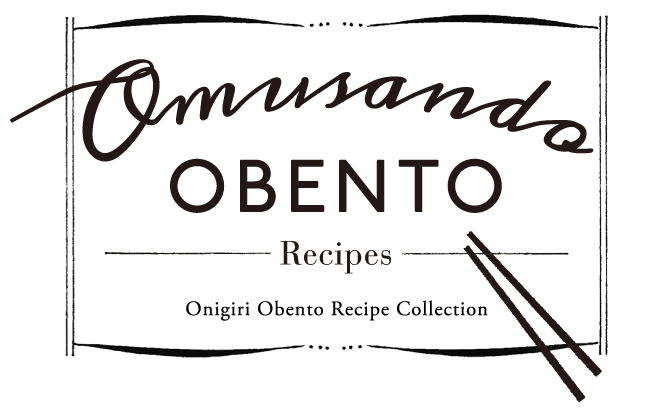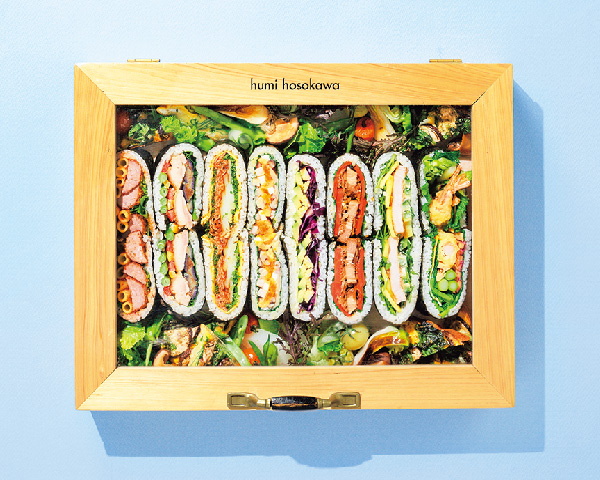 OMUSANDO
Delicious treats you'll definitely want to try for yourself!
Omelet and rice sandwich bento lunchbox made using the ASM865CE Rice Mat Robot.
"おむサンド" and

are trademarks of Audio-Technica Corporation, registered in Japan.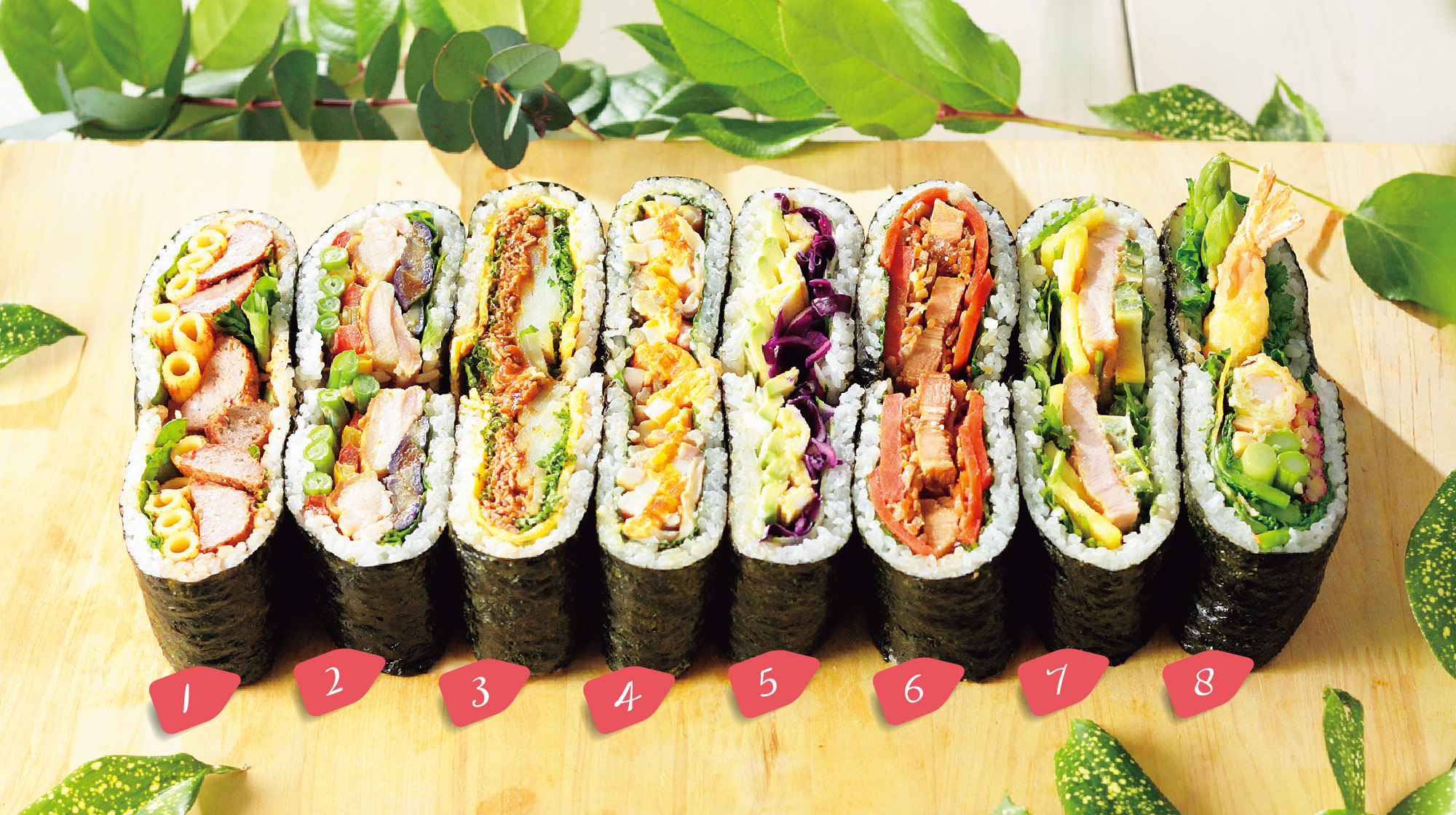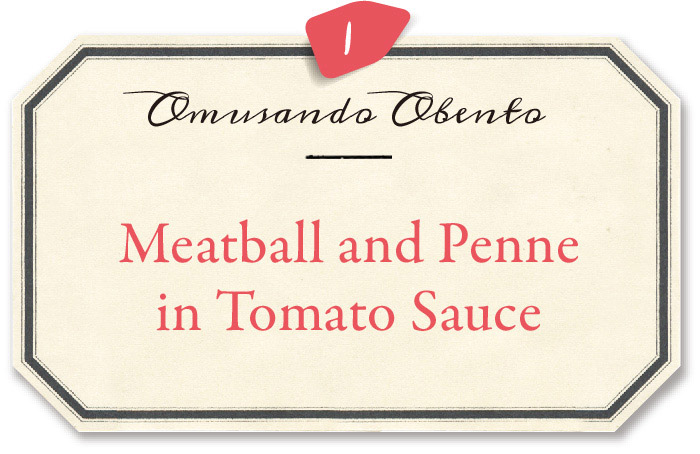 A meaty recipe lavishly flavored with Parmigiano cheese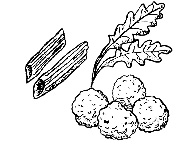 Ingredients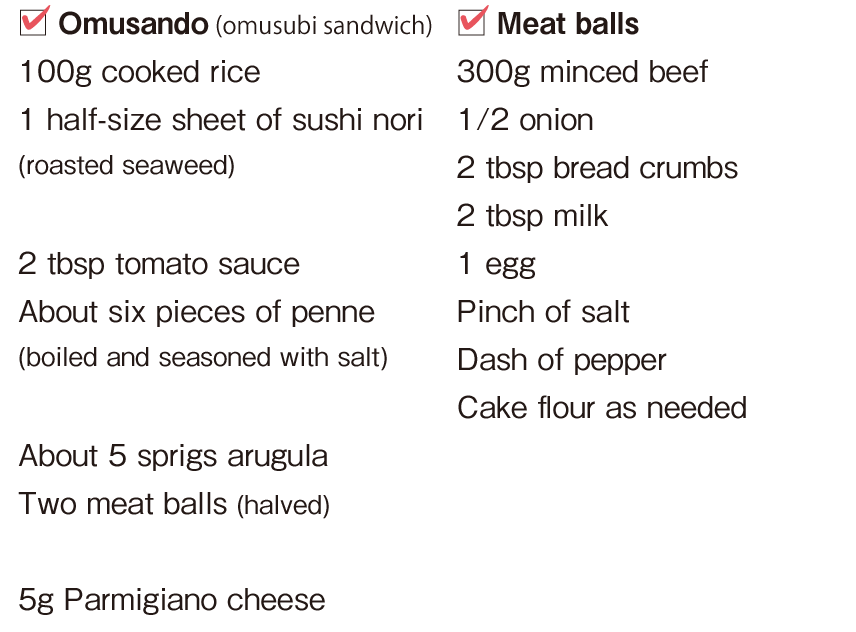 Recipe
In this recipe, handmade beef meat balls and penne are seasoned in tomato sauce. The fresh, pungent flavor of arugula, combined with Parmigiano cheese, puts the dish in a different league. The trick is to cut the meatballs in half so that they line up neatly with penne, leaving little space in between.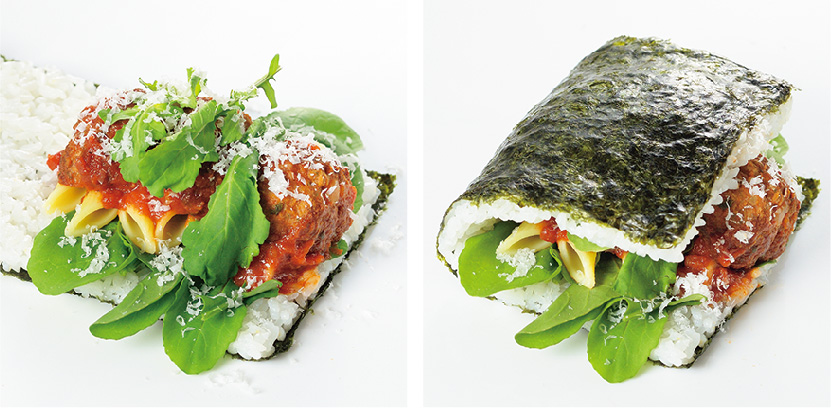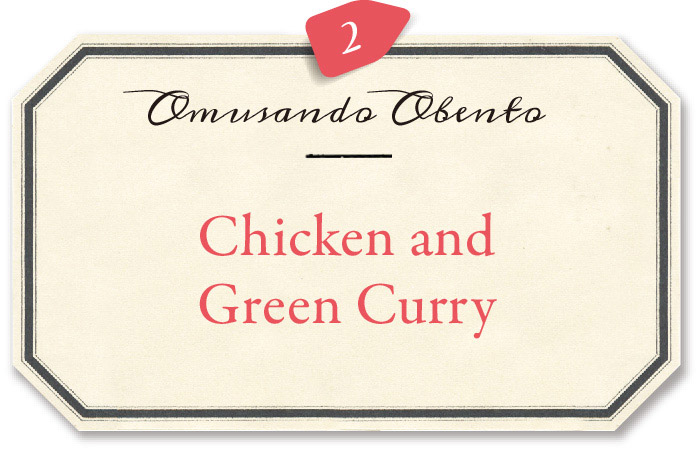 Enjoy the crispy chicken skin! And the addictive hot and spicy flavor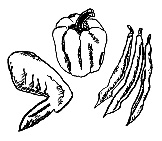 Ingredients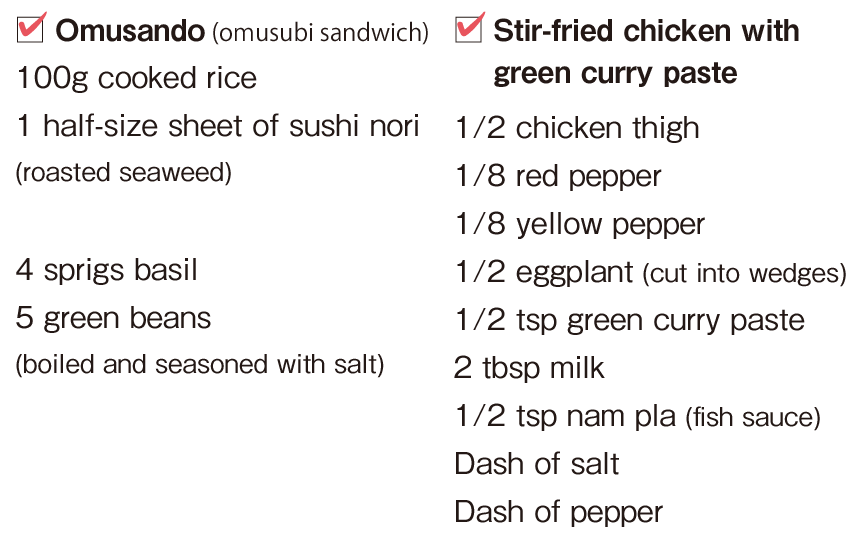 Recipe
The use of a commercial curry paste product makes this dish a fail-free alternative! Combine fish sauce (nam pla) with milk and coat grilled eggplants with the curry paste. The broiled chicken leg meat, featuring its crispy skin, is substantial enough as a main dish. Cover the plate with red and yellow peppers and green beans for a nice, colorful garnish.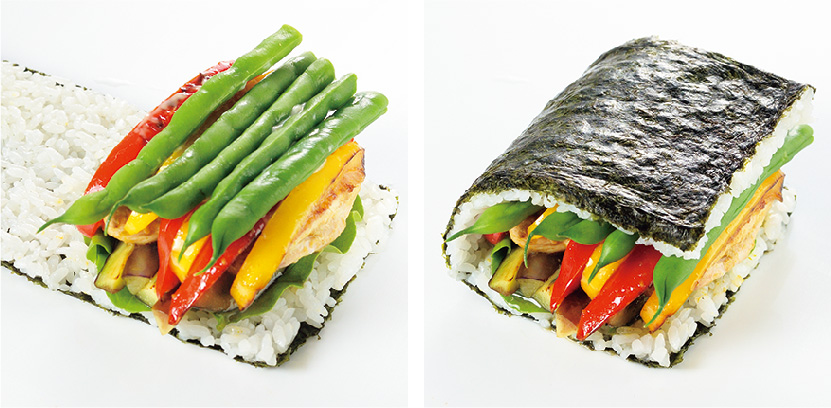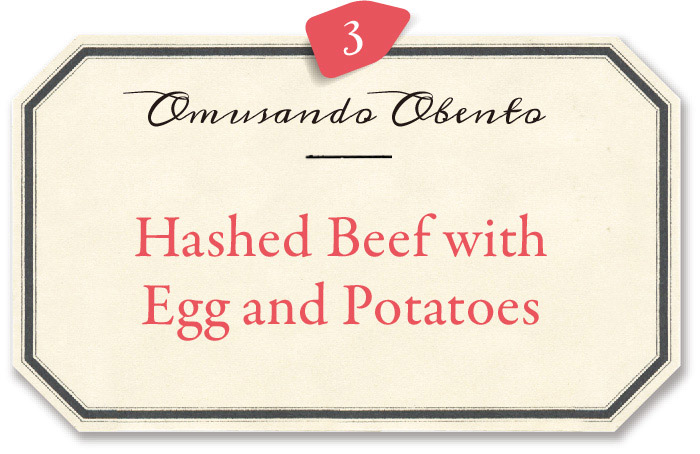 Let the golden duo of beef and potatoes stand out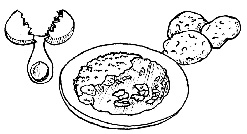 Ingredients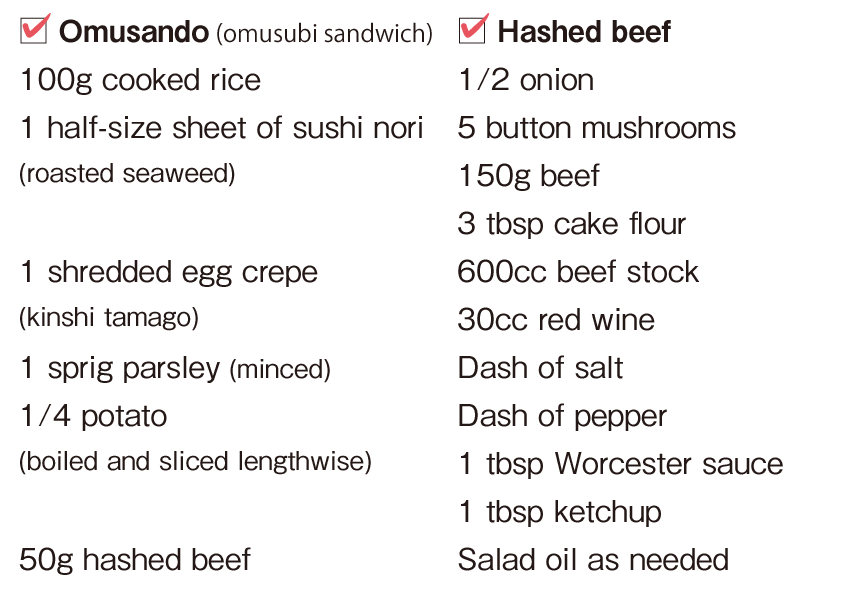 Recipe
Cook hashed beef using Worcester sauce and ketchup as seasoning. Sandwich hashed beef with cooked potatoes for a delicate balance of flavor. Garnish with plenty of parsley for an accent. Adding a layer of shredded egg crepes (kinshi tamago) on rice helps prevent the drips from coloring the rice and create a neat finish.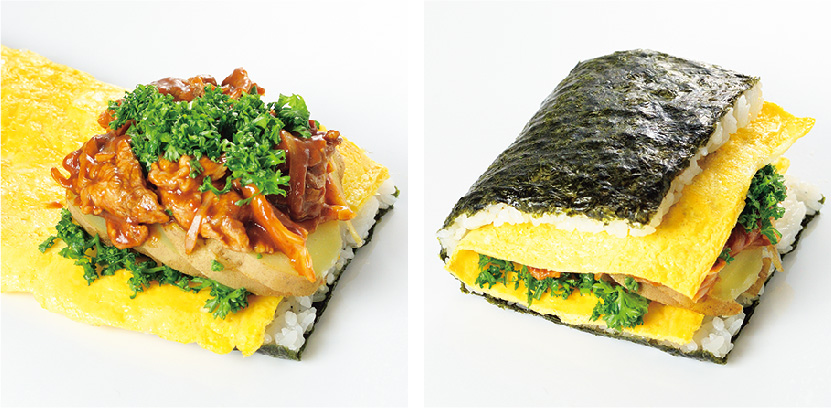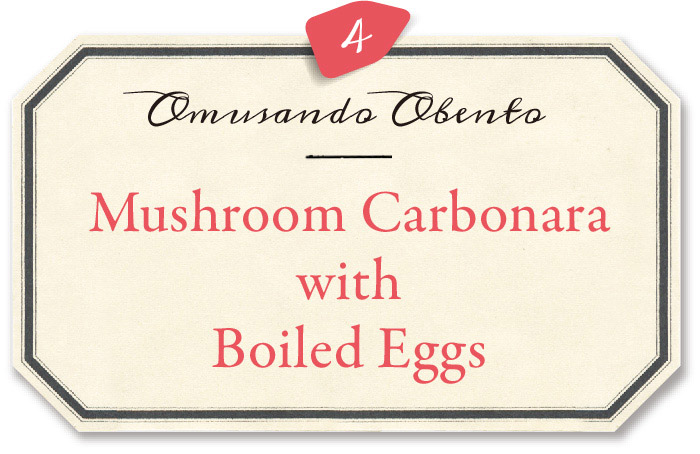 Savory mushrooms cloaked in heavy cream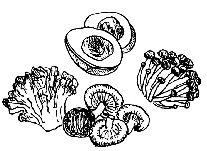 Ingredients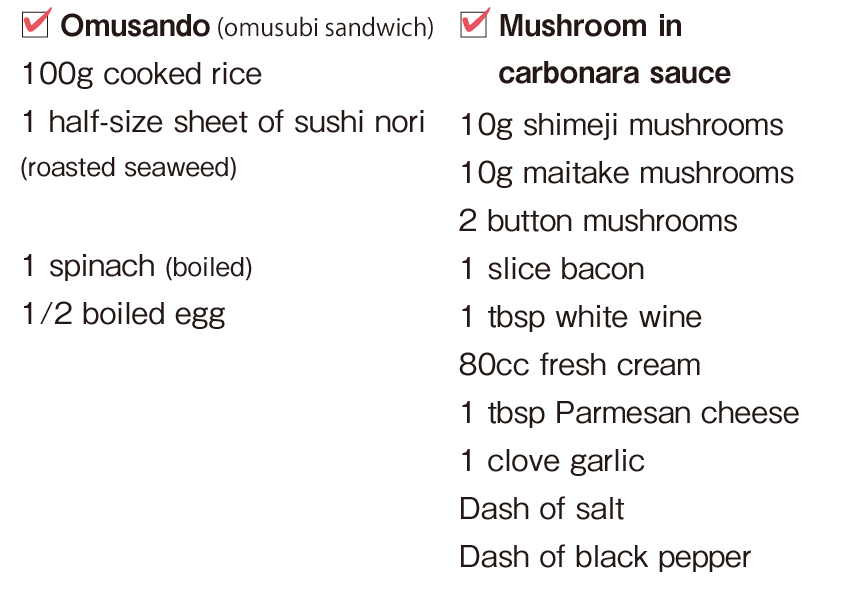 Recipe
The use of bacon and three different mushrooms in the carbonara sauce, the main segment of this dish, adds depth to its taste. Eggs are boiled here rather than mixed into the sauce as is usually done to increase sauce thickness. Also, the rice is covered by a layer of boiled spinach on top to prevent the juice from dripping.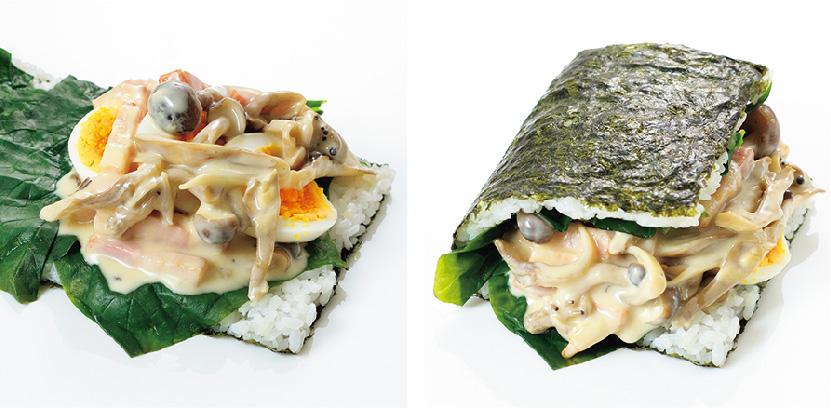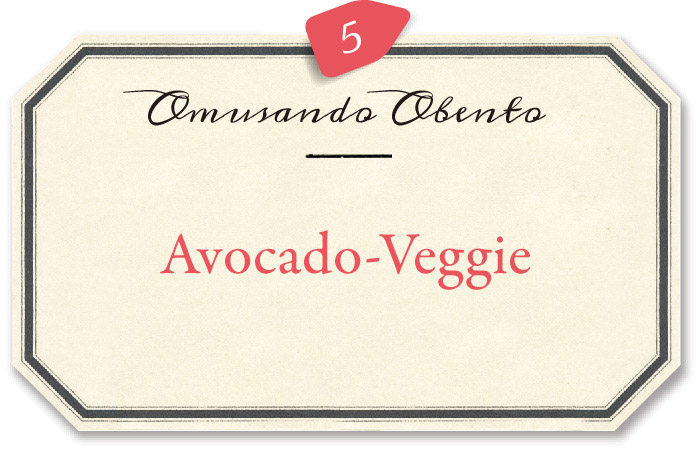 Sandwich with an artistic flair in green and purple tones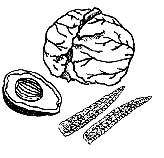 Ingredients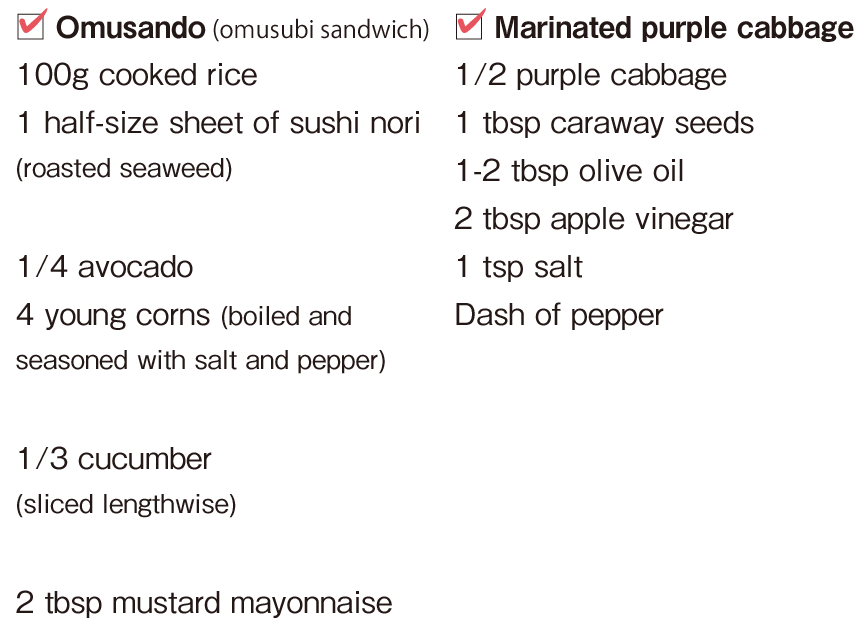 Recipe
Seasoned with caraway seeds that add subtle sweetness and fresh fragrance, the marinated purple cabbage spices up the taste of the whole sandwich. It's a veggie-only sandwich that offers a healthy and tasty alternative. The contrast of different ingredients and creamy and crunchy texture enhances the joy of munching.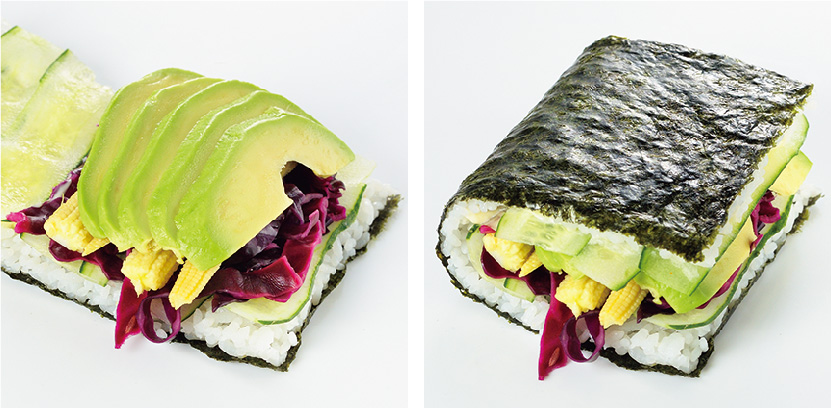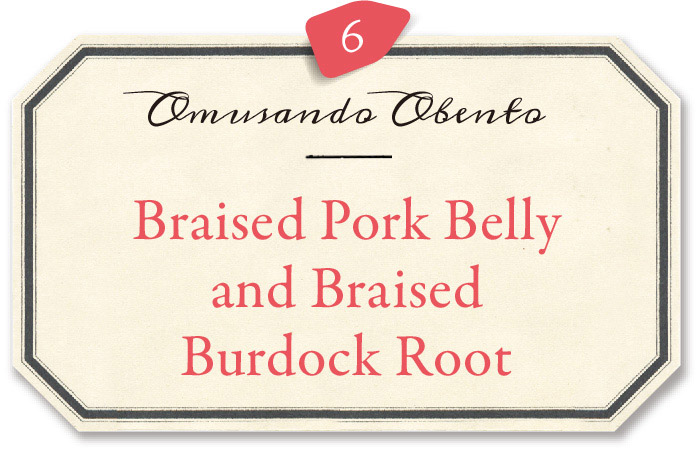 A salty-sweet dish that's full of goodies and a perfect complement to the rice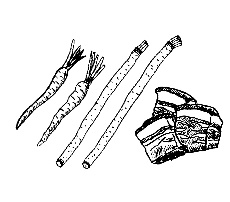 Ingredients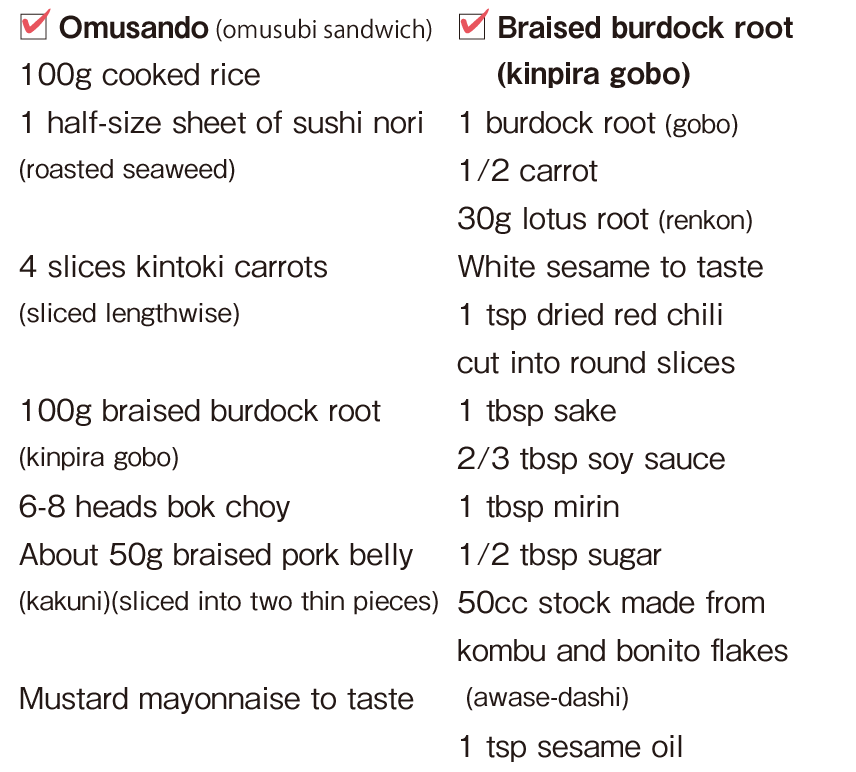 Recipe
Lotus root (renkon) is added to this kinpira gobo recipe to highlight the dish's chewy texture, which is served together with soft and moist braised pork belly. The sweetness of this side dish is balanced out with mustard mayonnaise. Adorn with kintoki carrots and bok-choy for a great color combination.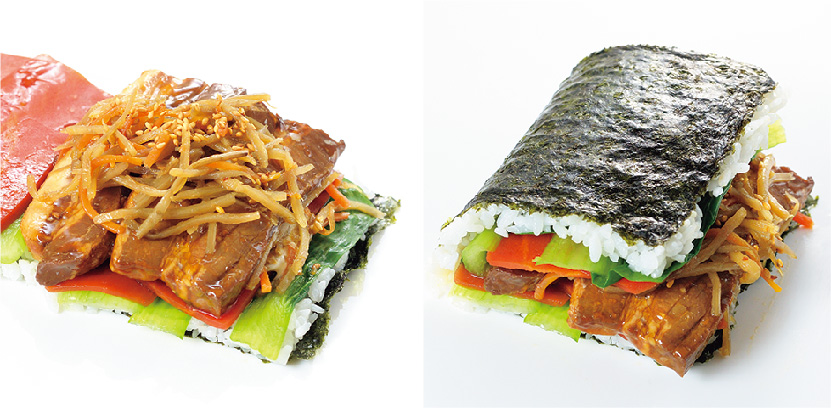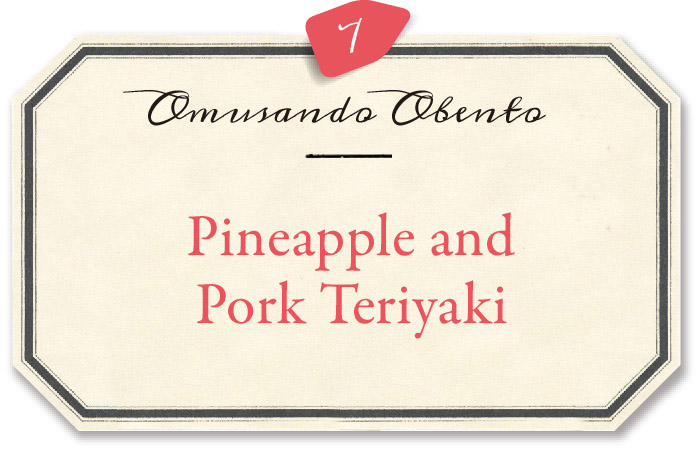 Fruity and juicy A tropical taste with the fragrance of coriander leaves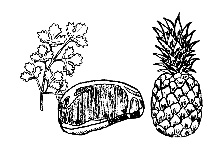 Ingredients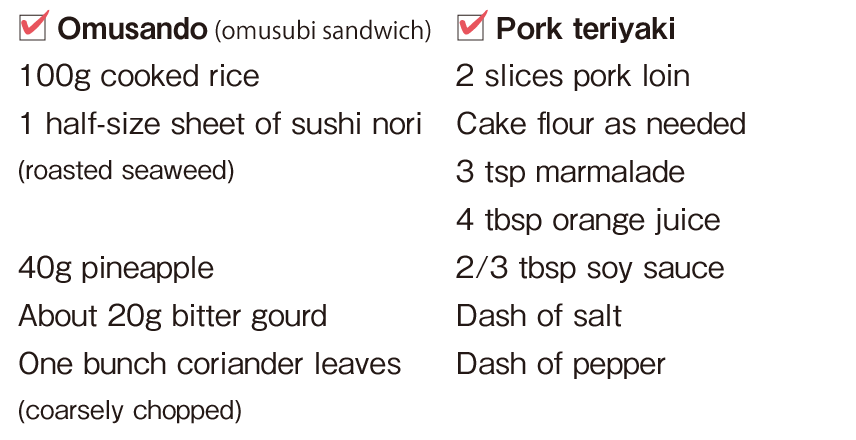 Recipe
The use of marmalade in this pork teriyaki dish accentuates its fruity and rich flavor. Place the pork at the center, flanked by thinly sliced pineapple and bitter gourds on the sides. This is the ideal arrangement to enjoy the expanse of flavor and texture! Both fresh and canned pineapples can be used.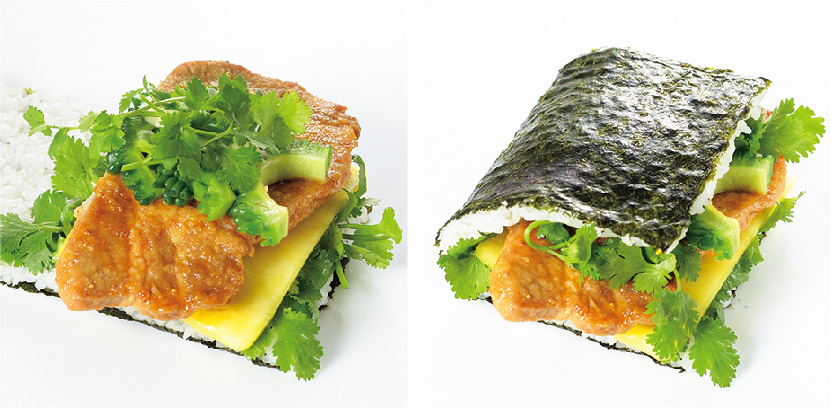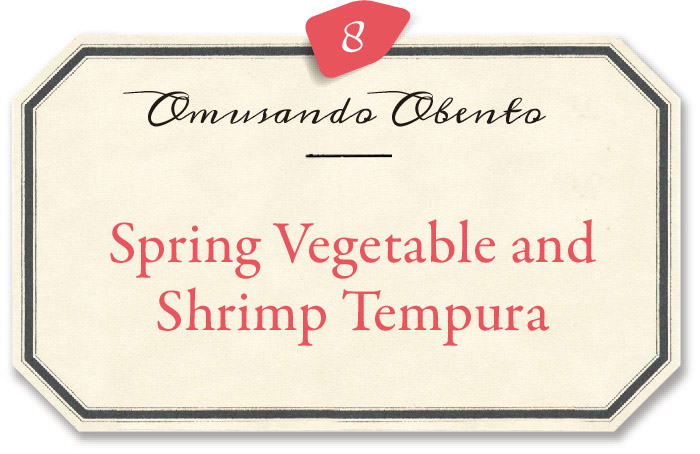 Lavish assortment of spring ingredients Light taste for a tempura dish

Ingredients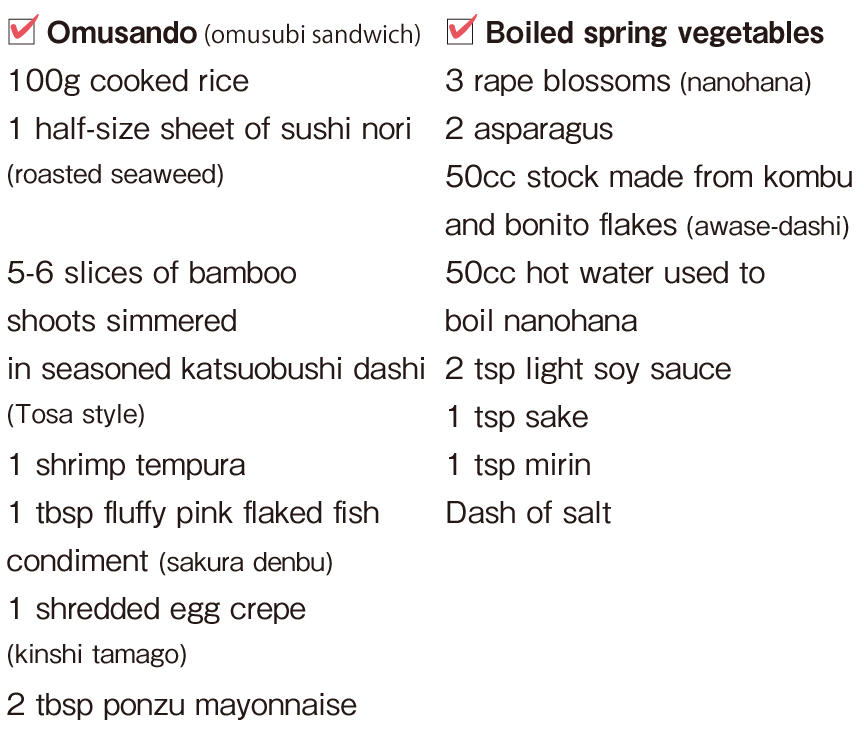 Recipe
In this recipe, cooked and seasoned rape blossoms (nanohana) and asparagus is placed on the side of the rice for a mature taste, tinged with the delicate flavor of simple and savory stock known as dashi. Insert a layer of sweet-salty, fluffy pink flaked fish condiment (sakura denbu) between the rice and the vegetables first to prevent the drips from migrating. Add cooked bamboo shoots (takenoko), shredded egg crepes (kinshi tamago) and a whole shrimp tempura on top for a gorgeous finish.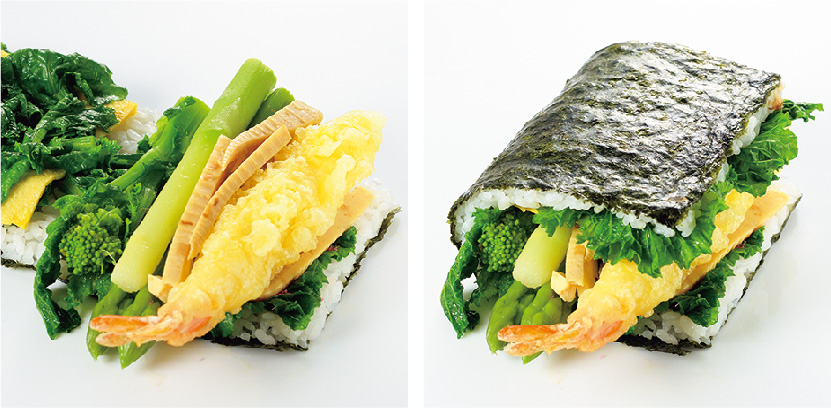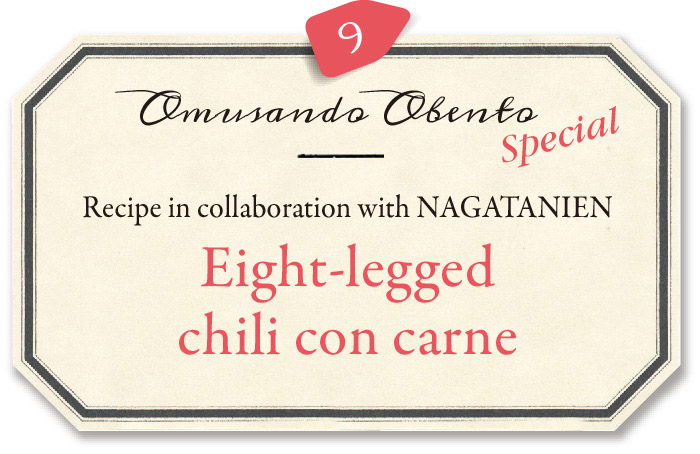 Full of rich umami from octopus! A Mexican flavored recipe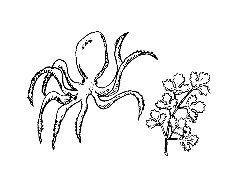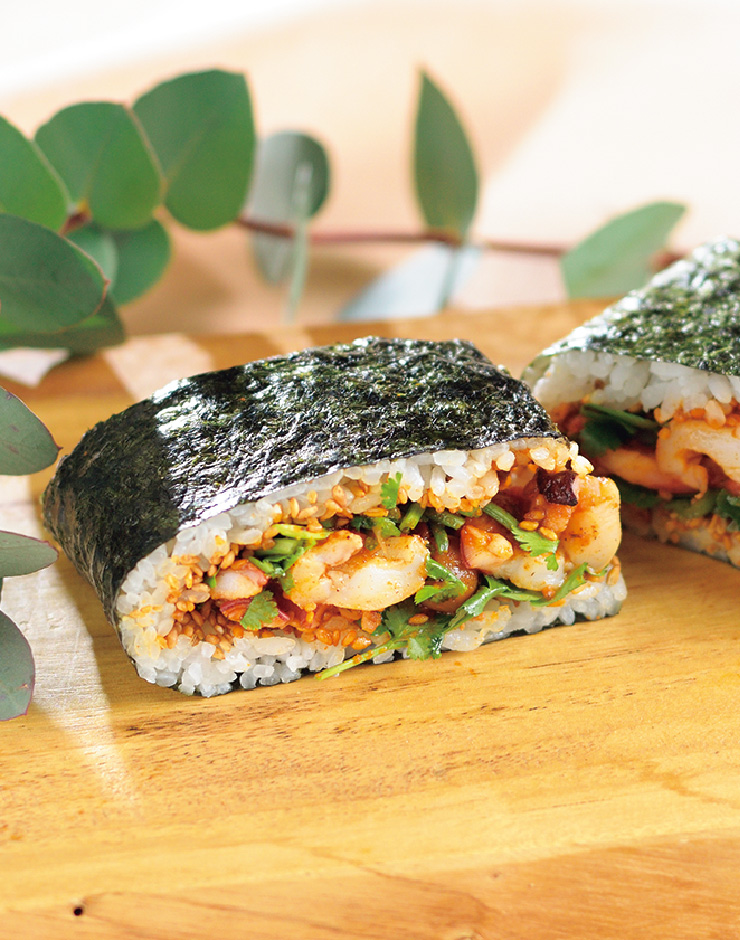 "Lifestyle with sauce by NAGATANIEN" Jointly developed by NAGATANIEN and Fumi Hosokawa "Octopus essence and umami with eight-legged Mexican-inspired chili con carne sauce"
This is the first item released from the "collection humi hosokawa" series, which turned Hosokawa's original recipes into products as "pre-packaged ingredients that reconstruct Humi Hosokawa's bento flavors." The spicy chili con carne sauce offers a simple and convenient alternative to enjoy the flavor of authentic cuisine at home without having to invest long hours making the sauce from scratch. The Mexican flavored dish is accentuated by the delicious umami of octopus and hot flavor of chili. Chili con carne sauce comes ready in a sealed pouch.
*This retort pouch sauce is available only in Japan. For details, please contact us.
Ingredients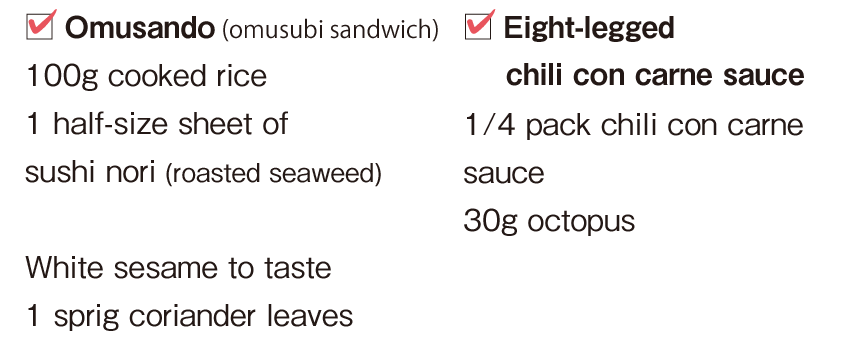 Recipe
This hot and jolly omelet sandwich is based on "Octopus essence and umami with eight-legged Mexican-inspired chili con carne sauce." Webfoot octopus is mixed into a sauce that contains three kinds of beans. A garnish of white sesame and coriander leaves adds depth to its flavor.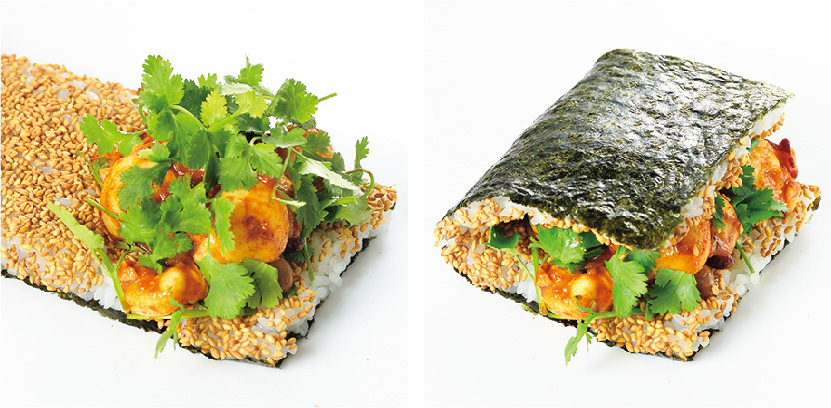 Simply set the nori and press the button to form a sheet of rice using the designated amount of rice. Place the ingredients shown in the recipe on the rice and fold the sheet into half to make Omusando.