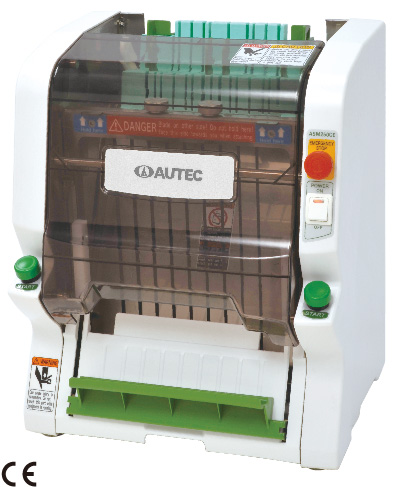 Efficiency improves with safety operation
Nicely cut rolled sushi is dropped onto the bottom tray and base is recovered automatically so work efficiency is improved.
As the parts are made of resin, cleaning, assembling and disassembling is simplified.
The cut base units are for 6 pcs, 8 pcs and 10 pcs. For 6 pcs and 8 pcs, the cut base unit is common.

Power Supply
AC100V – 240V 50Hz / 60Hz
Power Consumption
40W
Production Capacity
Up to 600 pcs per hour


※The production capacity varies depending on the setting and the conditions

Range of Norimaki sizes
Thickness equivalent to 25 square – 50 square (mm)
Length lengthwise roll (for 4 / 6 / 8 pcs) : 180 – 185 (mm)
Yoko roll (for 10 pcs) : 200 – 205 (mm)
Cutting Size(mm)
For 4 pcs cut : 45 each
For 6 pcs cut : 30 each
For 8 pcs cut : 22.5 each
For 10 pcs cut : 20 each
Dimensions
W 360 x D 292 x H 436 mm
Weight
18 kg