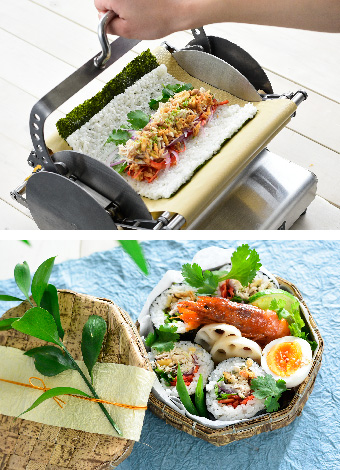 ASA190 enables anyone to
make norimaki without special skills
Applicable to thin to large rolls without a setup change. Rolling-direction insensitive: longitudinal or lateral.
Fully compatible with ASM865, this norimaki maker improves work efficiency when combined with the norimaki making machine.
Norimaki can be made using soy sheets and many other types of norimaki sheets.
Norimaki can be rolled tightly and softly regardless of the type of filling. Lettuce or fried food filling can be rolled in without difficulty.
Sanitary norimaki making is ensured by using corrosion-resistant stainless steel SUS304 and a Teflon belt that helps norimaki come off easily.

Stainless SUS304, a high-class corrosionresistant Stainless steel,
is used for the exterior of the machines. Due to its high rust resistance,
surface finishing is not required and the exterior will not peel.
Since stainless SUS304 is easily welded and clean, the machine can always be kept clean.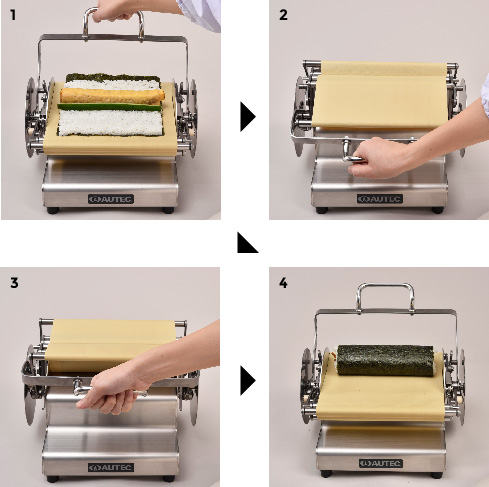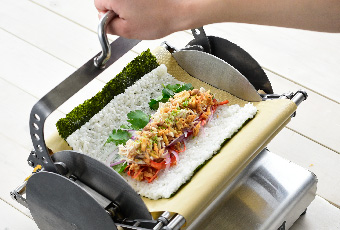 Norimaki size
Width (diameter): 20 to 60mm
Length: max. 205mm
Outer dimensions
W 313 x D 339 x H 265 mm


※Excluding the power cord and screw heads

Weight
about 7.0kg